Duty and Advice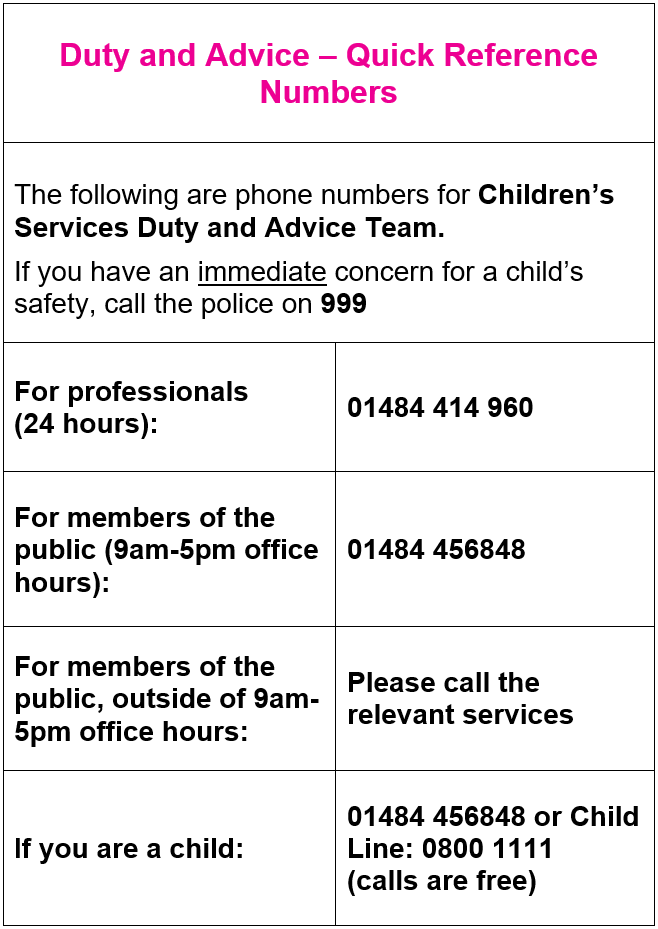 Duty and Advice is the team based in Children's Social Care where all Child Protection concerns should be referred. Duty and Advice is a multi-agency team with workers from the Police, Education, Health and Housing as well as Children's Social Workers.
Advice on enquiries needing an immediate response:  
When it is felt a child or young person is at immediate risk of harm
When a child protection investigation is needed (because of physical sexual and emotional abuse or chronic neglect)
When a child or young person needs an immediate mental health assessment
Advice on Enquiries which can wait until the n​ext working day:
When a professional or practitioner would like to make contact with Children's Social Work Service to have a conversation about a concern they have for a child that might lead to a referral – but the child or young person is not at immediate risk of harm
When a professional or practitioner would like to pass on a message to a social worker or other social work practitioner
Any issues around contact arrangements between children and their parents.
What to do if you are concerned for the safety of a child
If you suspect that a child or young person is being harmed or is at risk of being harmed then you have a duty to report it immediately.
If you are ever concerned that a child is in immediate danger please call the police on 999.
Child abuse can have major long-term effects on all aspects of a child's health and well-being. Children and young people are dependent on others for their survival and have a right to be protected and to have someone who will act on their behalf. If you are a member of the public you may first like to discuss your concerns with someone who works with children and families, such as your health visitor, social worker, school nurse or Designated Safeguarding Lead (DSL) in schools, all schools have at least one DSL.
Please act promptly!
Local Resources
Prior to completion of the Duty and Advice Contact Form please ensure that you contact Duty and Advice or the Emergency Duty Team to discuss your concerns by telephone in the first instance.
Framework for making safeguarding decisions in Kirklees
This document sets out our approach to keeping children in Kirklees safe and protected from harm. The guidance builds on 'conversations' with colleagues from all agencies over many months and in particular the work that has focused on Early Help and Early Support. The guidance is intended to help professionals embed into their practice a restorative and strengths based approach, and is designed to ensure that across the continuum of need professionals consider that the right help is given to the right children at the right time and for the right duration.
You might also be interested in…
Upcoming Training events
Click on a link to register and book your place